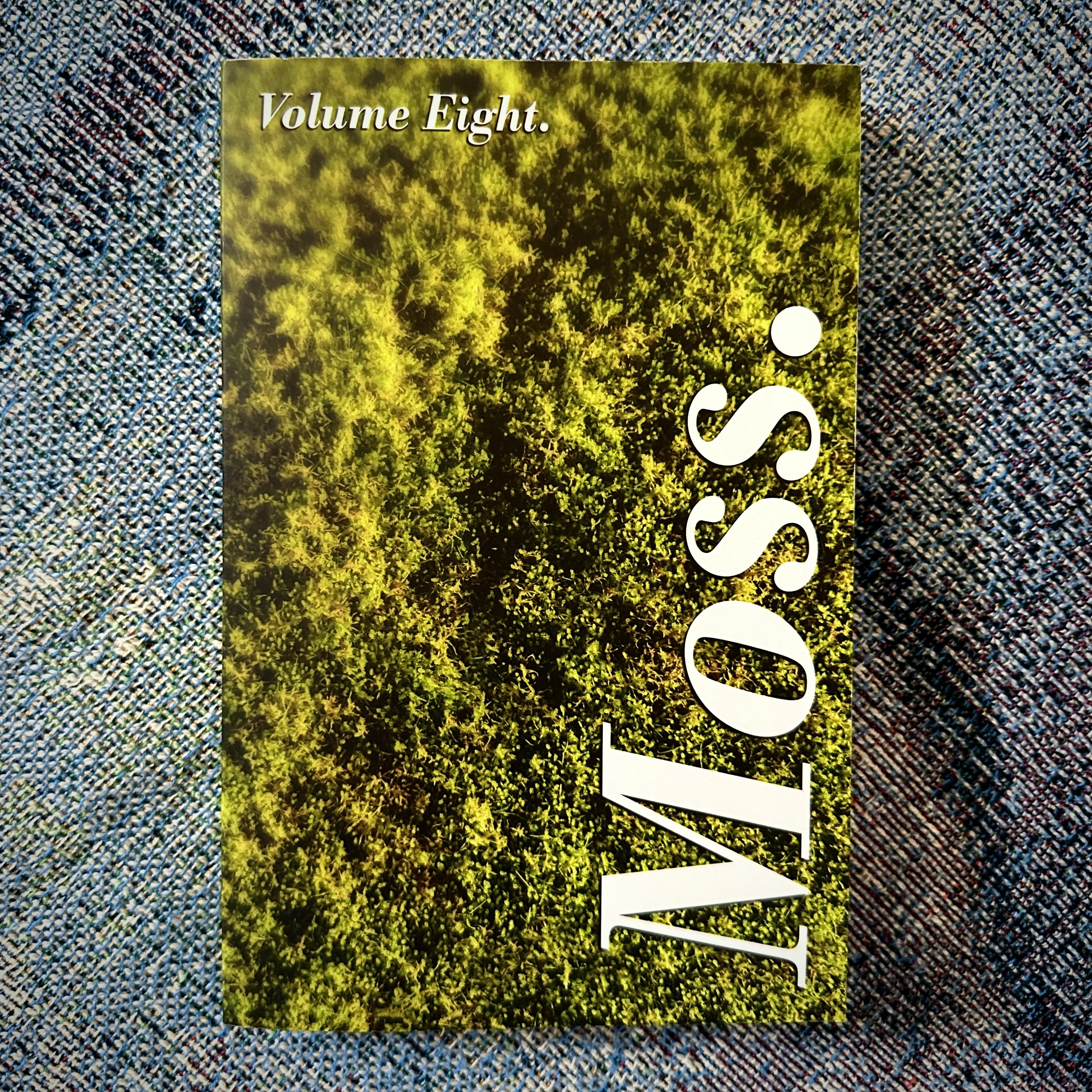 Buy by subscribing at the link above to have Volume Eight shipped directly to your door.
Featuring work and interviews from some of the most exciting Pacific Northwest authors of today,
Moss: Volume Eight
continues our ongoing mission to support, publish, document, and celebrate the Pacific Northwest's unique creative environment and inimitable community of writers.
Subscriptions starting with
Volume Eight
are open now.
Payments are handled securely through
Stripe
; we never receive your payment information directly, nor is it shared with third parties.
Why subscribe?

Moss is a non-profit journal with an all-volunteer team. We pay every writer we publish, and make all of our work available online for free — all without ads, paywalls, or submission fees. Over the course of our publication, we're proud to have paid out more than $10,000 to writers from across the region.
Our subscription model has allowed us to stay writer-focused, community-first, and truly independent, even in the face of difficult financial times.
Though our book and merchandise sales help to cover some of our printing expenses and writers' fees, we rely on the support of
subscribers like you for the type of sustainable funding that will allow Moss to grow, thrive, and publish great work far into the future.
About the Moss team

Moss
is a literary journal of Northwest writing. Published annually, Moss is dedicated to exploring the intersection of place and creative expression, while exposing the Northwest region's outstanding writers to a broad audience of readers, critics, and publishers.
Moss was founded by
Connor Guy
, a book editor in New York City, and
Alex Davis-Lawrence
, a filmmaker based in Los Angeles. Both were born and raised in Seattle.
Over time, our team has expanded to include
Amy Wilson
, a poet from Oregon and our Director of Outreach;
Alayna Becker
, our Managing editor;
Cali Kopczick
, our Programming Coordinator; our Contributing Editors in fiction and non-fiction,
Diana Xin
,
Michael Chin
,
Steven L. Moore
, and
Sharma Shields
; our Poetry Editors,
Dujie Tahat
,
Ashley Toliver
, and
Jalayna Carter
; and our team of Readers, including Angelica Lai, Sasheem Silkiss-Hero, Paisley Green, Kimm Stammen, Elissa Favero, Jamie Bails, and Jenny Liou.
To keep up with
Moss
on social media, find us on
Twitter
and
Facebook
.
Praise for Moss

Since its debut issue in the summer of 2014,
Moss
has received praise for its sharp design, strong editorial hand, and its commitment to supporting new and emerging writers. As
The Seattle Review of Books
put it, "
Moss
is at the vanguard of modern Northwest literature."
Moss
has also been covered by
The Rumpus
,
Literary Hub
,
Longreads
,
The Millions
,
The Offing
,
The Stranger
,
Seattle Weekly
,
City Arts
, and
The Portland Mercury
, among other publications, and is stocked at independent bookstores across the country.
"...a quality publication, with a strong editorial hand..."
—Paul Constant at
The Stranger


"...where place-based writing is often a buzzword, the journal provides an in-depth examination into what it means for writing to be 'Northwestern.'"
—Bill Carty at
City Arts


"Since launch last year,
Moss
has published standout work of authors from the region and has worked to preserve obscured work..."
—Feliks Garcia at
The Offing
, "4 Literary Magazines to Add to Your Reading List"
"... the perfect thing for the bookish indoor kids of the Pacific Northwest."
—Megan Burbank at
The Portland Mercury



---